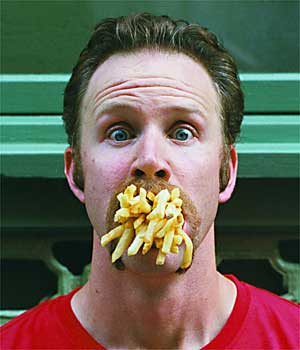 I wish I could say I was health conscience during high school, but I wasn't. I played sports for a couple of years until I moved to a new school and my new friends weren't exactly pro-sports. :)
One thing that didn't change with the move was that I was a total junk food connoisseur. If a food restaurant had a drive-through, I'd probably been through it. heh.
My top faves: Mickey D's, Taco Bell, Burger King and Wendy's.
And still I have my weak moments and revisit these drive-throughs...you know, for the memories.
Here were my favorite meals from these Fast Food Kingdoms:
Mickey D's: Big Mac (hold the pickles), fries and a coke.

Taco Bell: Big Beef Burrito Supreme or Mexican Pizza or Nacho Supreme, with a coke.

Burger King: Whopper with cheese (hold the pickles), fries, and a coke.

Wendy's: Jr. Bacon Cheeseburger, fries, and a coke.
*sigh*
These days, I've come to my senses--as much as I'm able ;)--and order salads. There's one fast food kingdom I've been waiting for years to open, though. A chain of Pizza By The Slice drive-throughs. I mean, come on, think of the bank someone could make!
Fess up, which was/is your fave fast food drive-through?