Sirena

, you got it, girl.
Please drop me a note with your address: gerb@lindagerber.com
and I'll send the book off to you!
Thanks, everyone for playing.
Don't forget to check back tomorrow for one more chance to win a book this week.

Welcome to the Friday edition of Inside the Character's Studio.

Today's lucky winner will receive an

ADVANCED READER'S COPY

of my upcoming YA mystery,


DEATH BY BIKINI

.
Leave me a comment for your chance to win. It's that easy!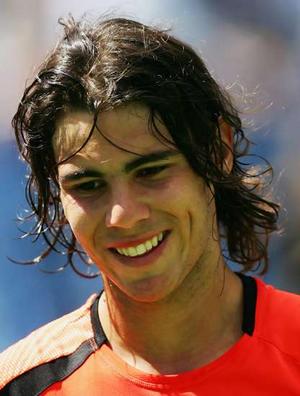 Today we'll hear from Seth Mulo, who in my mind looks an
awful lot like Rafael Nadal,
except with blue eyes and maybe
shorter hair. Plus Seth was a football captain and Rafael plays tennis, but still...

What is your favorite word?

Yes



What is your least favorite word?

Hide



What turns you on creatively, spiritually or emotionally?

Freedom



What turns you off?

Deception.



What is your favorite curse word?

From my dad's country - iqvac. It just means bonehead, but it sounds a lot more intense than that if you say it right.



What sound or noise do you love?

The ocean.



What sound or noise do you hate?

A sigh of resignation.



What profession other than your own would you like to attempt?

(laughs) Yeah. When I have a profession, I'll let you know.



What profession would you not like to do?

Work for the government.




Linda Gerber

Available now!

Now and Zen, Puffin 2006
The Finnish Line, Puffin 2007
Women's Sports Foundation Recommended Read

Coming Soon!

Death by Bikini, Puffin 2008
Death by Latte, Puffin 2008
Death by Denim, Puffin 2009
lindagerber.com