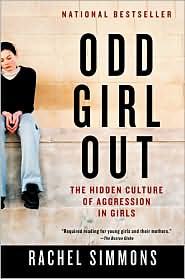 I'm not sure if I ever wrote about it here before, but for years I didn't mention the fact that, as a kid, I had been bullied.
And I'm not talking about a single confrontation between me and some mean kid that took place after school, no, I mean an ongoing, ridiculously prolonged, form of bullying between me and a group of older girls (two in particular) that took place before, during, and after school, and that lasted five years.

One of the reasons I didn't talk about it is because I didn't understand it. I'd done nothing I could think of to instigate their behavior except move to a new town, and arrive at my new school with a major stomachache and a bad case of nerves. But by lunchtime that very first day, word was out, and my new nickname of "Stuck Up B*&%h" somehow stuck. There was even a song created to go with it, one that made liberal use of my nickname, over and over again.
But despite the lyrics professing that I thought I was "
sooo
bitchen" I'm here to say I pretty much felt I was anything but. I may have lived in the biggest house on the street, but trust me, it was by no means happy inside. My parents were constantly fighting, on the verge of divorce, and my entire world was falling apart, making it hard to determine which was more miserable, being at home or going to school.

One of the other reasons I never talked about it is because I was ashamed. When a group of kids decide to outright reject you, without talking to you or getting to know you first, but merely deciding to hate you at first sight, it does more than just hurt, it makes you question your entire being, your self-worth. Besides, back then, bulling was relegated to something boys did. No one ever spoke about the propensity of meanness in girls. And believe me, there was nothing covert about what they did, it was right out there in the open, available for teachers and parents to see, but not once did anyone ever step in to stop it.
And though the taunting eventually stopped, the effects lingered for a very long time. And it wasn't until a few years ago, when I read
Rachel Simmon
s incredible book,
ODD GIRL OUT
that I could finally define what'd happened to me. It's hard to describe the emotions I went through when reading the book, but it was definitely a cathartic experience. Just knowing that I wasn't alone, that others had experienced the same type of thing, provided tremendous relief.
Not long after reading it, I wrote
ART GEEKS AND PROM QUEENS
, my book about bullying, conformity, and the insidious meanness of girls. And I thought I was done with the topic, having fully moved on, when the strangest thing happened just a few days ago.

One of my bullies sent me an e-mail.

She'd found me on a social networking site and contacted me. Telling me how horrible she'd felt all of these years, and how she'd never tolerate that sort of behavior in her own kids. And even though it would seem like I should be well past caring either way, I could hardly believe my eyes when I read it. That e-mail meant a great deal to me, much more than I was probably able to express in my reply.

So I guess these are my tips for Surviving Adolescence week here at The Cafe:
If you're being bullied
- speak up! Don't suffer in silence; tell someone who can help you! And definitely get yourself a copy of
ODD GIRL OUT
.
If you ARE the bully
- then STOP IT! Just STOP IT! Treating others poorly is one of the worst things you can do, and it is
NEVER
okay. The cheapest way to feel good about yourself is by bashing someone else. Find a better way to boost your own self-esteem.
Oh, and no matter how many decades have passed, a heartfelt apology goes a very long way.
Alyson Noel is the author of several novels for teens and adults. Her upcoming
IMMORTALS
series begins with
EVERMORE
on 02.03.09. visit:
www.alysonnoel.com
to read excerpts, watch trailers, etc.